DOT Nixes Fordham Road Busway Due To 'Community Concerns'
Fordham Road won't be getting a busway after the Department of Transportation bowed to "community concerns" and opted for a plan for the corridor that will provide the least benefit for long-suffering bus riders.
DOT officials informed the project's community advisory board on May 31 of their intention to kill the proposed Bronx busway and instead shift existing bus lanes away from the curb and extend them by several blocks, according to a presentation posted online late on Friday afternoon.
The choice of a bus lane and not a busway represents a capitulation to the claims of local business owners — loudly, forcefully, and in contradiction to DOT's own studies — that all of their customers drive to the congested roadway.
DOT's revised effort will see existing bus lanes shifted and extended beyond its current termini of Sedgwick Avenue to the west and Crotona Avenue to the east — to the University Heights Bridge and White Plans Road, respectively. The agency will also "explore" further extension across the bridge to 10th Avenue in Manhattan, according to the presentation.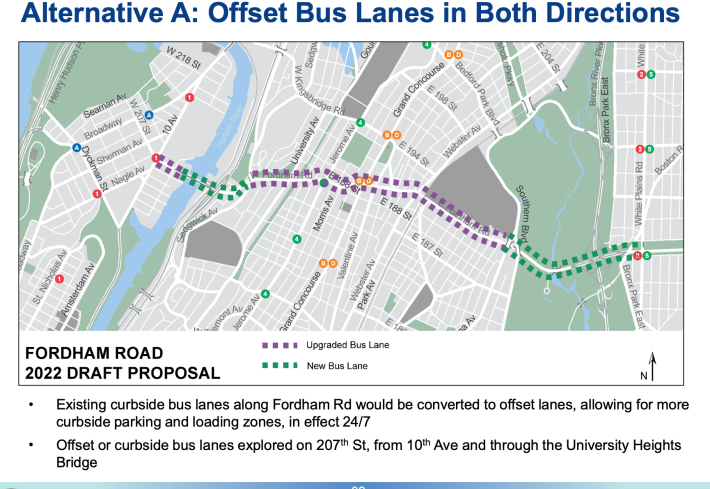 The piecemeal improvements are a far cry from proposals for an eastbound-only busway between Morris and Webster avenues or a two-way busway between Jerome and Webster avenues — both of which the agency said would have resulted in faster buses, according to an elected official who attended the meeting.
"My concern with the offset bus lane is that we're not going to see significant improvements," said Council Member Pierina Sanchez (D-Kingsbridge), who represents the western section of Fordham Road, and who said she prefers the eastbound busway proposal.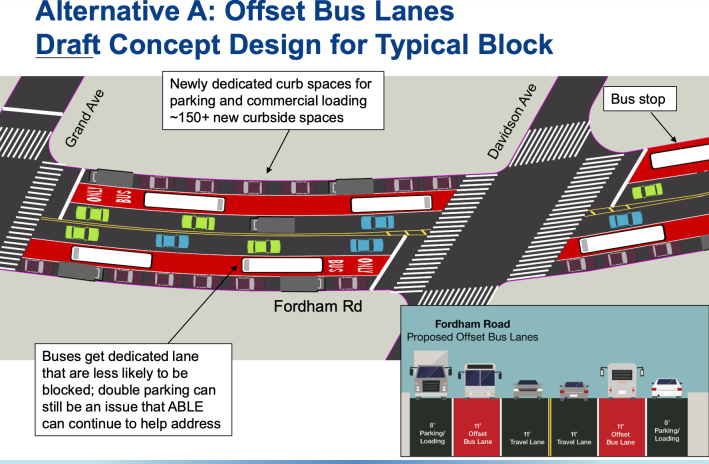 DOT predicts a 20-percent bus speed improvement from the offset bus lanes versus a 30-percent speed improvement from a busway, according to a DOT spokesperson, who added that every project is unique, and as such cannot be compared to others.
Bus riders in DOT surveys consistently said they preferred a busway, but the agency opted to nix the proposal after completing a traffic study that heavily emphasized car-oriented concerns of high-powered interests in the area who oppose bus improvements.
Driving the opposition have been the Belmont and Fordham Road business improvement districts, which managed to win the leaders of St. Barnabas Hospital, the Bronx Zoo, Fordham University and other Boogie Down institutional powers to their side.
The groups recently implored Mayor Adams to cancel the project, claiming that their businesses rely on car-dependent customers. A litany of surveys debunk this claim — including one this past March that found just 6 percent of people who drive to Little Italy on Arthur Avenue oppose a busway. None of that was enough to outweigh the political power of people like Belmont BID Chairman Peter Madonia, a former chief of staff to Mayor Mike Bloomberg who lives in suburban Larchmont.
"Foreclosing on the busway now does a disservice to riders and emboldens political opponents who don't live in the Bronx, so by definition, they're not NIMBYs. It's not even their backyard," said Riders Alliance spokesman Danny Pearlstein.
Installing a busway would divert 1,100 westbound and 1,050 eastbound cars from Fordham Road to local streets, according to DOT's traffic study — findings challenged by the local council member.
"I have a planning background, and induced demand is a real thing. If you take away the the ability to drive on Fordham Road, it's not that 100 percent of the traffic is going to go on to the side streets; fewer people are going to drive," Sanchez said.
"Mass transit, which is already the overwhelming preference in the Bronx, but especially in my district where over 70 percent of people do not own a car and 80 to 85 percent of people who are getting around Fordham Road are getting around on transit, I think that just remains the priority."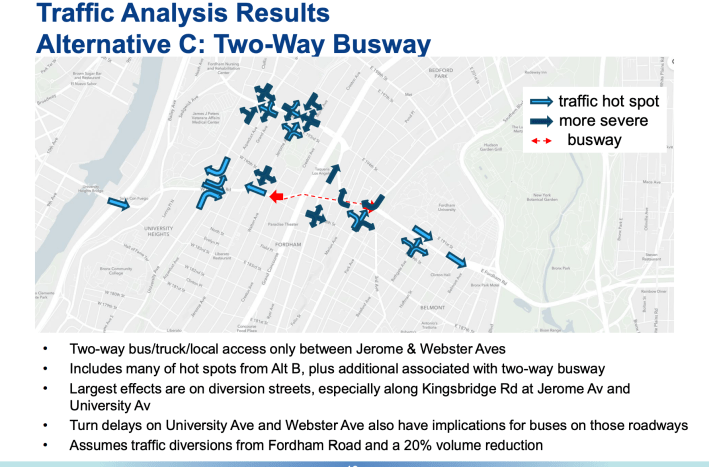 DOT said its traffic study predicted 20 percent of drivers who would normally be on Fordham Road at peak hours would shift to other times, move to different streets, or choose a different travel mode.
"We look forward to presenting a refined proposal for upgraded bus priority on Fordham Road to the community this month and continuing to develop designs for offset lanes with their feedback," DOT spokesman Vin Barone said in a statement. "This design would create dedicated curbside loading space to help keep our bus lanes clear for the 85,000 daily commuters on the corridor who deserve faster and more reliable service — and with minimal traffic diversions that would affect bus service on north and south corridors."
Bus speeds dropped significantly on Fordham Road in recent years after an initial boosted from the launch of bus lanes there in 2008. Buses there traveled an average of 6.3 miles per hour in March of this year, according to DOT.