Bronx Business Leaders and Local Institutions Want to Halt Bus Fixes on Fordham Rd
Well-connected Bronx businesses are demanding that Mayor Adams kill bus service improvements on Fordham Road — and they want to meet with Hizzoner over a meal to hash out their objections to better commutes for thousands of their customers and neighbors, Streetsblog has learned.
In a letter sent on Friday before Memorial Day, the Belmont and Fordham Business Improvement Districts — along with the leaders of the Bronx Zoo, New York Botanical Garden, Fordham University, Monroe College, and St. Barnabas Hospital — called on Adams and the Department of Transportation to nix plans to improve bus service for 85,000 commuters.
"Due to the urgency of the ramifications we face if this proposal is implemented, we invite you to meet with us in the neighborhood for lunch or dinner at your earliest convenience to further discuss our point of view," the letter said.
DOT last year proposed three solutions to the problem of declining bus speeds and bus ridership on Fordham Road:
Extend the bus lane on Fordham Road to White Plains Road at the east end and across the University Heights Bridge on the west end;
Install an eastbound busway between Morris and Webster avenues to complement the above bus lane extensions;
Put a two-way busway between Jerome and Webster avenues, along with the above bus lane extensions.
But those plans riled up the business leaders, who reject the findings of city surveys that most of their customers do not drive. Other options that would retain vehicular access are also on the table — but unacceptable to the business leaders, according to the letter, which is signed by several BID leaders, including Peter Madonia, an influential local figure in Belmont, former chief of staff to Mayor Mike Bloomberg, and a resident of Larchmont in the suburbs, according to campaign finance documents. Madonia previously used his heft to dissuade the city from installing a bike lane on Arthur Avenue.
"DOT's plan for moving the existing bus lane over to a current travel lane (resulting in one travel lane) will significantly impact crucial traffic flow on these main arteries and cause more traffic than already exists," Madonia and his fellow leaders wrote.
"Implanting [sic] a busway eastbound (or in both directions) from Morris to Webster would not only impact access, ingress and egress, but would disproportionately burden side streets, both residential and commercial (that already have bike lanes, outdoor dining structures and Play Streets) which were not designed to handle a substantial number of vehicles."
Fordham Road was once a shining success story of the city's bus system, but time and traffic have taken the gleam off what was the city's first "Select Bus Service" route back in 2008.
Ridership on the BX12 — one of five routes on the street — jumped from under 45,000 riders in 2007 to almost 50,000 per day by 2014, but has steadily declined along with bus speed since then thanks to an increasing number of cars and trucks driving and parking in the bus lane. Speeds along parts of the corridor are as low as 4 miles per hour between Webster Avenue and Grand Concourse for westbound buses, and 6 miles per hour at best for eastbound buses coming over the University Heights Bridge from Manhattan.
"On Fordham there's a lot of traffic, the buses are really packed, and you can't rely on the time the bus says it will get you to a certain place because of the traffic," said Tynesha Clabornn as she waited with her baby for a Fordham Road bus at Third Avenue.
"I think [a busway] would be a great idea, because I notice in Manhattan with buses, they run smooth, they're not overpacked and they get to their locations on time. In the Bronx, it's really bad with transportation when it comes to the buses."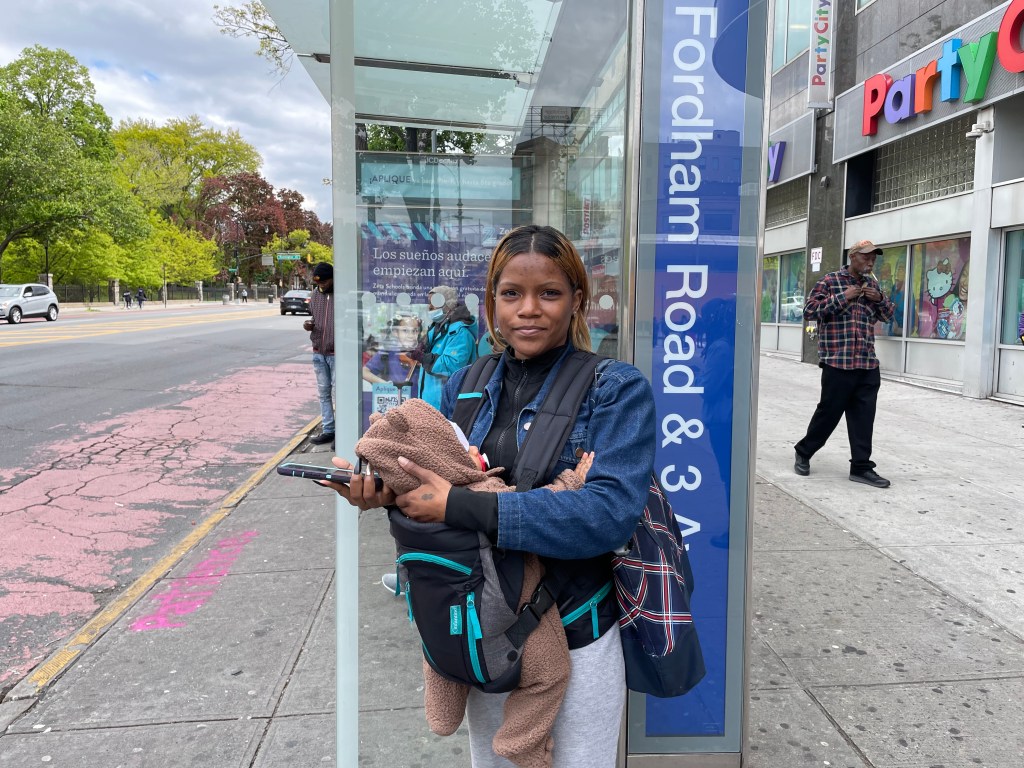 One of the elected officials who represents Fordham agreed that what's good for Manhattan is also good for his constituents.
"I support transit equity when it means providing the same level of investment of resources and consideration of neighborhood needs to projects in The Bronx as those in the other boroughs," said state Sen. Gustavo Rivera, who is withholding final judgement on DOT's plans pending a promised traffic study.
DOT has promised to model the three proposals' potential traffic impacts on side streets and the surrounding neighborhoods. An update is expected to be given to the agency's selected "community advisory board" sometime this week.
The anti-bus coalition announced its opposition to the car-free proposal in a letter the called the plan an "existential threat" to their businesses. But their margins are driven as much by the humble bus as anything else in the area, according one of the local BID's own research. Car drivers comprise just 15 percent of shoppers in the Fordham neighborhood, according to the Fordham BID's Commercial District Needs Assessment, which was quietly released in early 2023.
That one-year study from June 2021 to July 2022 found 32 percent of shoppers walked to Fordham's commercial strips, while 24 percent took the bus and 18 percent took the subway.
The results match what DOT has found when collecting its own shopper data on this and many other commercial corridors where busways were proposed.
On Fordham Road, DOT's own survey from July 2019 found that 86 percent of people got to the strip by bus, train or on foot — making it no different from other busy commercial corridors where the city has installed busways in recent years.
On 181st Street in Washington Heights, the city found 89 percent of visitors to the busy strip arrived by mass transit, bike or on foot. In Queens, only 17 percent of shoppers said they showed up to Main Street in Flushing by private car, and on Jamaica Avenue in Jamaica only 6 percent of people came to the street via car. On the city's first busway, 14th Street in lower Manhattan, a pizza shop owner went as far as making the ludicrous claim that the car-free regulations would be the end of his slice joint even as the shop was packed with customers in the days after the busway began in 2019.
Complaints that bus improvements will destroy businesses on Fordham Road are as old as Select Bus Service itself. A New York Times blog post from 2008 quoted the owner of car stereo shop Audio Maxx as saying that removing parking spots for the then-new bus service would be the end of his store because his customers would not be able to park in front of it. Today the store — which was located in the middle of the block at 536 E. Fordham Rd. in 2008 — has an enviable corner location on the corner of Fordham and Bathgate Avenue (with a garage for easy installations post-sale).
One of the organizations that signed onto the letter, the Belmont BID, has claimed that 50 percent of people who visit Little Italy in the Bronx come by car. A rep declined to share the study, saying the letter "speaks for itself," obscuring the survey's legitimacy.
Big money interests have managed to stop progress for bus riders before, including on Fifth Avenue Manhattan where the city has sidetracked plans for a busway first announced in 2020. Such dynamics could be at place in the Boogie Down as well.
Marc Jerome, the president of Monroe College, has given $57,600 to candidates around the Bronx and the city since 2001, including a $2,000 contribution to Bronx Borough President Vanessa Gibson and a $1,000 donation to Mayor Adams. Madonia, the chairman of the Belmont BID and a bakery owner, is a frequent contributor to local politicians.
Connected interests lobby behind the scenes for a private audience with the mayor as buses remain trapped at walking speed — leaving riders in the lurch and advocates worried the mayor may backtrack on his promise to install 150 miles of bus lanes and busways by 2025.
"The data is crystal clear: Bronxites overwhelmingly go to Fordham Road by public transit," said Riders Alliance Policy and Communications Director Danny Pearlstein.
"Even without a survey, the triple-parking alone makes it obvious how few drivers the street can accommodate. The question is, will Fordham remain both almost impossible to drive on and infuriating for bus riders too? Or will Mayor Adams honor his promise and build a busway to deliver fast and reliable public transit service through the commercial heart of the Bronx?"
The Department of Transportation did not comment on much of the letter, merely saying it was working with the community on the project.
"We are committed to improving bus service and supporting businesses across the Bronx, and we're working closely with the community to accomplish those goals," said spokesperson Scott Gastel.