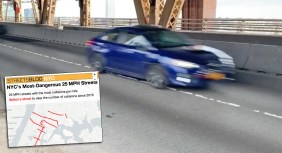 Why is Sammy's Law so important? Why are activists staging a hunger strike to get the state Assembly to pass a law that would allow New York City to reduce some speed limits to 20 miles per hour from the current 25?
Because people are dying and being maimed on New York's most-dangerous 25-mile-per-hour streets.
The bill does not mandate lower speed limits, but would only allow New York City to reduce some — and the city Department of Transportation would likely start on the streets with the most crashes, many of them in low-income communities of color.
Where are these streets exactly? Just look at our map.