Early Voting Begins on Saturday! Here's the StreetsPAC Endorsement Recap
Over the last month, Streetsblog has reported on the endorsements that StreetsPAC published for the coming NYC elections. The story was reported in several parts, as endorsements were issued for 33 city council seats, 3 Borough President seats, Manhattan District Attorney, Comptroller, and the mayoral race. Today, on the eve of the start of Early Voting on June 11, we would like to present an updated recap of those articles, combined for your convenience.
The Livable Streets movement has come a long way in the eight years since StreetsPAC released its first wave of endorsements. The vital debate over street safety "was seen as a fringe issue" then, but it has become a hot topic in this election as an incredibly congested NYC turned to alternative methods of transportation during the 2010's. Candidates from all boroughs have formed their stances on bike lanes, bus and subway service, and street overhaul, and have made them central to their election strategies.
While the city council portion of this election will have to be repeated in two years– the Census will require redistricting– the number of new candidates with bold new ideas creates a blueprint for what NYC politics could look like for the years to come.
If there is no bolded name included with a district for the city council portion, it means that StreetsPAC did not issue an endorsement for that area for reasons such as candidates' lack of interest in safety issues, unsatisfactory answers on their questionnaire or lack of answer all together. We've included a short list of leading candidates in those districts.
Without further ado, here are the endorsements:
Mayor
StreetsPAC threw its support behind former Sanitation Commissioner Kathryn Garcia, citing her support for redesigning streets and expanding Citi Bike. The political action committee praised Garcia for signing a petition in support of transforming the 34th Avenue open street into a linear park, citing it as an example of how Garcia will turn her words into specific actions. Garcia also publicly supports Transportation Alternatives' "NYC25x25" plan, which seeks to repurpose 25 percent of the space currently allotted for the movement and storage of cars. StreetsPAC sees Garcia as the candidate of action, who can come up with ambitious ideas and still execute the plans she puts forward.
Comptroller
StreetsPAC chose to endorse in ranked order for the role of Comptroller, giving Corey Johnson the first choice spot and favoring Brad Lander as the second choice. The organization stated that it gave a "slight edge" to Johnson because of his experience as Speaker, and his personality that might be able to bring more attention to the vital office.
Manhattan District Attorney
New York is the only one of the five counties to have a contested race for district attorney in this year's primary. (Brooklyn District Attorney Eric Gonzalez, a Democrat, is facing re-election in November, but he has no primary challenger.) The Manhattan district attorney race is hotly contested, however, with eight candidates running in the primary, five of whom competed for the StreetsPAC endorsement. As a state office, district attorney is not subject to ranked-choice voting.
Those five were Alvin Bragg, Diana Florence, Lucy Lang, Dan Quart, and Tali Farhadian Weinstein. (The latter four are familiar to Streetsblog readers because each penned an op-ed.)
StreetsPAC chose Bragg, "based on a combination of commitment to treating vehicular violence as serious crime while also seeking alternatives to incarceration, important experience managing a large prosecutorial and investigative staff, a willingness to innovate, and a plausible path to victory."
Bragg "stood out" among an "impressive group of lawyers" and "will bring a new, serious focus on vehicular crime" to the office, "which will have a direct and positive effect on the safety of the borough's streets."
Borough President races
StreetsPAC endorsed in three races:
Mark Levine (Manhattan): The group praised the current upper east side council member as a reliable and energetic voice for street safety, and noted his strong support for projects such as the 125th Street Select Bus Service, the extension of the Amsterdam Ave protected bike lane, and Morningside Ave pedestrian safety improvements.
Antonio Reynoso (Brooklyn): Council member Antonio Reynoso got the PAC's nod for his efforts as a city council member to create protected bike lanes, advocate for the Myrtle-Wyckoff Pedestrian Plaza, and support plans for a busway on Berry Street. They also cited his desire to re-design Atlantic Avenue as an important factor for the endorsement.
Donovan Richards (Queens): Incumbent Richards surprised StreetsPAC as an Eastern Queens official who doesn't follow the borough's political norm of appeasing drivers in the very car dependent area. Richards is a strong supporter of turning the 34th Avenue open street into a linear park, and is in favor of speed cameras, improved transit service, and new bike lanes.
Manhattan Council
Christopher Marte (District 1, Lower Manhattan): Marte, who lost to retiring Council Member Margaret Chin in 2017, told StreetsPAC that he supports pedestrianizing the Seaport District and a big chunk of the Financial District. He also favors a protected crosstown bike lane on Chambers Street, among other routes. He said he would advocate for delivery cyclists to be able to use the Hudson River Greenway. The group recommends Gigi Li, Chin's chief of staff, as a second choice. (We wrote about this race earlier in the year.)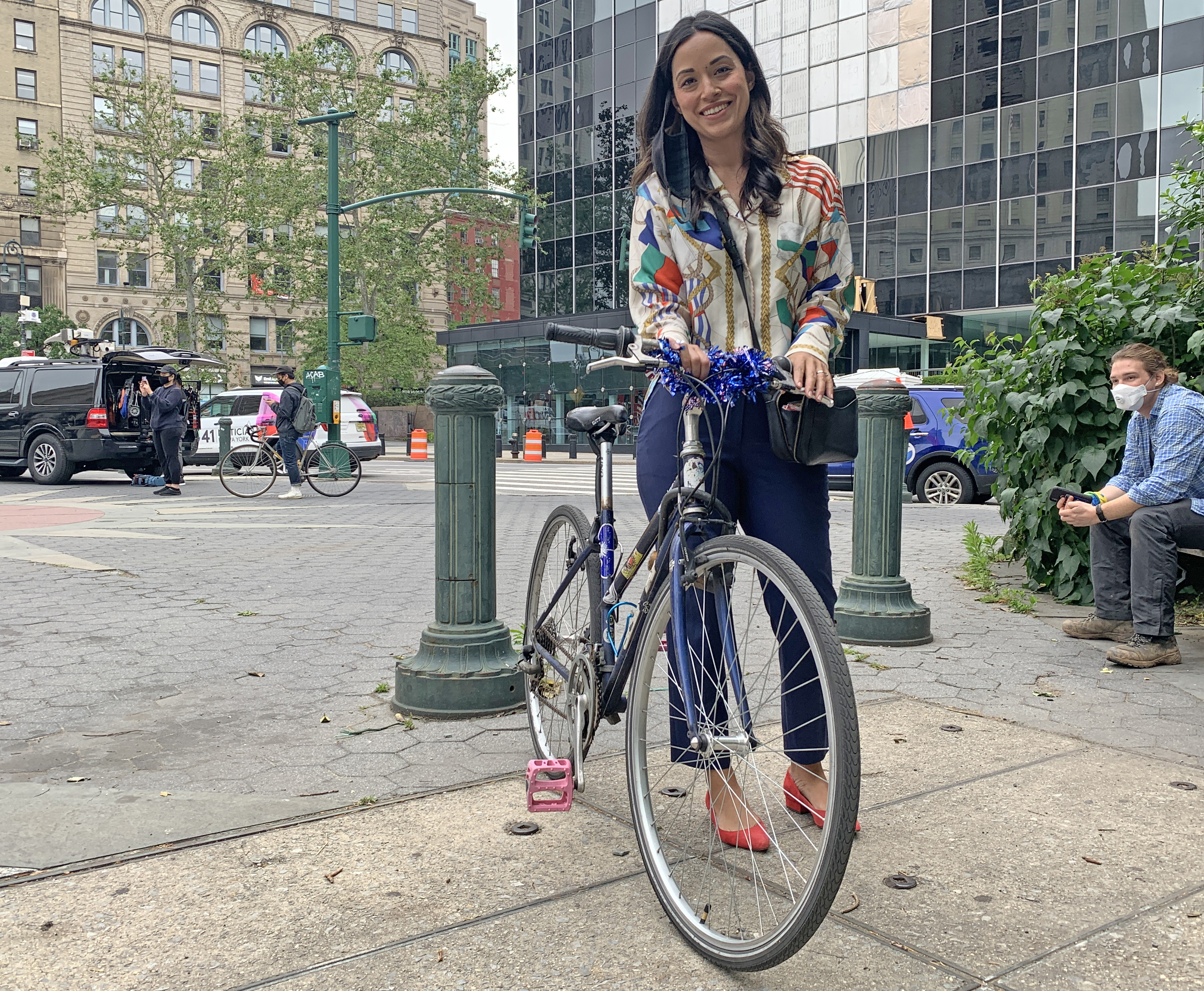 Carlina Rivera (District 2, Lower Manhattan, pictured): StreetsPAC endorsed incumbent Rivera, who has a strong Safe Streets reputation with her pioneering in the Open Streets program. If re-elected, she would work to widen the Second Avenue bike lane and implement more curb extensions.
Erik Bottcher (District 3, West Side): Bottcher, who was Corey Johnson's Chief of Staff, impressed StreetsPAC with his commitment to bringing street-safety improvements to 10th Avenue and to extending the Sixth Avenue protected bike lane south of Ninth Street.
Keith Powers (District 4, East Side): Powers, who is running unopposed in his re-election campaign, was praised by StreetsPAC for his ability to follow up on campaign promises, including implementation of the 14th Street busway and the extension of the 6th avenue protected bike lane. In his next term, he wants to work on more protected bike lanes and creating more busways, hoping to duplicate the success of the 14th street version.
Billy Freeland
Billy Freeland (District 5, Upper East Side, pictured): Freeland stands out in a solid field to succeed Ben Kallos, who is running for borough president. StreetsPAC cited attorney Freeland's "passionate commitment to changing the district's streets" that includes "overhauling Third Avenue and transforming Citi Bike into a public utility."
Much of Freeland's agenda was published by Streetsblog earlier in the campaign. For a second pick, StreetsPAC recommends Julie Menin, who made Streetsblog headlines for her plan to reimagine the FDR Drive. Kim Moscaritolo was ranked third.
Sara Lind (District 6, Upper West Side): Lind hopes to succeed term-limited Helen Rosenthal. StreetsPAC praised her for her support for the Central Park West protected bike lane (and wanting more such lanes crosstown). Lind also has a bold plan for Broadway. The group also had nice things to say about term-limited Manhattan Borough President Gale Brewer, who is running to reclaim her old Council seat, but ultimately chose the "fresh ideas and energy" of Lind.
Marti Allen-Cummings (District 7, Harlem/Washington Heights): Allen-Cummings got the group's nod for their support for crosstown busways on 125th, 145th and 157th streets. They would support more bike lanes and subsidizing Citi Bike to expand it further. StreetsPAC did say there are several other good candidates in the race, but it did not name them. (City and State did this preview of the race to succeed term-limited Mark Levine.)
District 8, East Harlem: Incumbent Diana Ayala is running with token resistance from Tamika Mapp. StreetsPAC did not endorse.
Mario Rosser (District 9, Harlem): Rosser wants more dedicated bike lanes and better bus service in his district. Incumbent Bill Perkins did not participate in our endorsement process (he rarely returns our calls also).
Bronx Council
District 10, Washington Heights: The top candidates are Carmen De La Rosa, Angela Fernandez, Johanna Garcia, and Josue Perez. StreetsPAC did not endorse.
District 11, Northwest Bronx: The top candidates are Eric Dinowitz, Lora Mino, Abigail Martin, Daniel Padernacht, and Marcos Sierra. StreetsPAC did not endorse.
Shanequa Moore (District 12, Wakefield): Moore, a social worker, is challenging Kevin Riley for the northern Bronx seat he won in a special election in December. (Riley did not participate in the StreetsPAC process.) Moore says she would advocate for redesigning wide and dangerous streets such as Boston Road. She wants bike-share expanded to the district, with more protected infrastructure.
District 13, Northwest Bronx: The top candidates are Monique Johnson and Marjorie Velazquez. StreetsPAC did not endorse.
Pierina Sanchez (District 14, Morris Heights/University Heights): Sanchez was the New York director at the Regional Plan Association before moving to City Hall to work on housing, land use, economic development and labor issues. She emphasized her support for "faster and more reliable bus service, an expanded Fair Fares program, and adoption of the Freedom Ticket for intra-city trips on Metro North and the LIRR." The seat is currently occupied by term-limited Fernando Cabrera.
John Sanchez (District 15, Fordham): Sanchez, who is well known to Streetsblog readers, is district manager of Bronx Community Board 6 and has made safe streets a centerpiece of his campaign. He wants to reduce car use, in part with busways on Fordham Road and Third Avenue, and more protected bike lanes. He has called for massive expansion in daylighting street corners.
District 16, South Bronx: The top candidates are Abdourahamane Diallo, Amadou Diallo, Yves Filius, and Althea Stevens.  StreetsPAC did not endorse.
District 17, South Bronx: Incumbent Rafael Salamanca Jr. is expected to win re-election, although Helen Hines is running a smaller campaign against him. StreetsPAC did not endorse.
Amanda Farias (District 18): Voters finally get a chance to move past the divisiveness and homophobia of retiring Council Member Ruben Diaz Sr., who beat Farias last time around. Farias is a board member of Riders Alliance, and said she would focus on improving transit access by expanding the Fair Fares program and by bringing Citi Bike across the Bronx River (with new protected bike lanes, too). The group suggested that Michael Beltzer would be a good second-place vote.
Queens Council
Austin Shafran (District 19, Flushing/College Point): Shafran nearly won this seat eight years ago, but lost to Council Member Paul Vallone by fewer than 200 votes in the 2013 Democratic primary (Vallone is term-limited). Shafran said he would expand open streets and expand the local bike network. He also said he'd work to make Northern Boulevard safer.
John Choe (District 20, Flushing): Choe, who leads the Greater Flushing Chamber of Commerce, hopes to succeed term-limited Peter Koo, who has been an opponent of transit and street-safety projects like the Flushing busway, which Choe supported. Choe, a daily bike commuter, said he would create the "Flushing Ring," a protected bike lane network that would feed the downtown area.
District 21, Corona: Ingrid Gomez, Fransisco Moya, George Onuorah, and Talea Wufka are fighting for term-limited Francisco Moya's seat. StreetsPAC did not endorse.
Tiffany Cabán (District 22, Astoria): Cabán, whom StreetsPAC endorsed in 2019 for Queens DA, said she supports redesigning streets, creating car-free superblocks and a busway on 21st Street busway. Evie Hantzopolous got the committee's "very strong" number two ranking.
Jaslin Kaur (District 23, Eastern Queens): With Barry Grodenchik not seeking re-election, StreetsPAC recommends Kaur, an education-equity and immigration-rights activist who rides the Q46 and said she is committed to improving the district's public transit.
District 24, Mid-Queens: The top candidates are Moumita Ahmed, James Gennaro, Saifur Khan, and Muhammed Uddin. StreetsPAC did not endorse.
Krishnan
Shekar Krishnan (District 25, Jackson Heights): Krishnan is a civil rights attorney who is well known to Streetsblog readers for his support for a 34th Avenue linear park.
Krishnan told StreetsPAC that he would prioritize building more transit corridors and busways and dedicated bus lanes on streets like Northern Boulevard, where he supports a comprehensive redesign.
He'll also advocate for a network of connected and protected bike lanes, and more space for pedestrians throughout the district.
Carolyn Tran earned the group's number two slot in District 25 — the race to succeed term-limited Council Member Danny Dromm.
Amit Bagga and Julie Won (District 26, Sunnyside): There are so many good candidates that StreetsPAC had to pick two: Bagga is a City Hall veteran staffer, said he wanted to help delivery cyclists, plus expand express buses and make the transit system "universally accessible." Won "will bring an advocate's passion to the fight for better street design," StreetsPAC said. She knows first-hand what it's like to commute by bike — she was struck by a hit-and-run driver  last November. Jesse Laymon earned StreetsPAC's number three ranking.
Nantasha Williams (District 27, Springfield Gardens): Williams is a champion of the Freedom Ticket, and told StreetsPAC that she will advocate for bike-, scooter-, and car-sharing programs. She also favors street redesigns to reduce speeding.
District 28, Southeast Queens: Incumbent Adrienne Adams is expected to win her re-election campaign against less-well-funded opponent Ruben Wills. StreetsPAC did not endorse.
Aleda Gagarin (District 29, Forest Hills): With Karen Koslowitz term-limited, the district has a chance to elect someone who supports transit and street safety projects. Gagarin, an urban planner, said she is committed to redesigning streets to improve safety and accessibility, especially for seniors, and to facilitate more protected bike lanes. Gagarin also touted Barcelona-style superblocks for the more dense, transit-rich parts of her district.
Juan Ardila (District 30, Middle Village): Ardila is challenging incumbent Council Member Robert Holden, who is an opponent of many street safety initiatives. Ardila wants to improve transportation access with better bus service to transit hubs, the reopening of a former LIRR stations, and more subway station accessibility. He supports a connected network of protected bike lanes.
District 31, Southeast Queens: Selvena Brooks-Powers is running unopposed as incumbent. StreetsPAC did not endorse.
Felicia Singh (District 32, Rockaway/Ozone Park): In seeking to succeed term-limited Eric Ulrich, Singh said her priorities are to improve mass-transit options (i.e. better bus service from the Rockaway peninsula to the mainland), and more reliable service on the A train. She wants to expand Citi Bike service into southern Queens (where it is not expected to exist for years under the current plan).
Brooklyn Council
Lincoln Restler (District 33, Williamsburg, Greenpoint, Downtown): Restler, a former de Blasio staffer who founded New Kings Democrats, said he would advocate for a network of concrete-protected bike lanes, safer intersections, improved bus service, and seamless integration of fares for all transit, including Citi Bike. Restler recently told Streetsblog that he wants to eliminate placards.
As a second pick, StreetsPAC recommends Elizabeth Adams, who was term-limited Council Member Steve Levin's legislative director. She played a crucial role in Levin's bill that would allow citizens to report illegal parking.
Jennifer Gutiérrez (District 34, Bushwick, pictured): Gutiérrez is hoping to succeed her one-time boss, term-limited Council Member Antonio Reynoso. Just as she told Streetsblog earlier this year, Gutiérrez is committed to breaking the car culture, and will prioritize safety improvements. She also wants 14th Street-style busways.
Crystal Hudson (District 35, Fort Greene): Hudson told StreetsPAC that she wants increased investment in Vision Zero, bus rapid transit and open streets, as well as getting the NYPD out of traffic enforcement. StreetsPAC chose Michael Hollingsworth as its "strong" second choice.
District 36, Bedford-Stuyvesant: Top candidates are Chi Ossé, Henry Butler, Tahirah Moore and Robert Waterman. StreetsPAC did not endorse.
Sandy Nurse (District 37, Bushwick): Nurse, a community organizer and carpenter, is challenging short-term incumbent Darma Diaz, who won a special election after the resignation of Rafael Espinal. Nurse is keen on improving transit service in a district where two-thirds of residents don't have a car.
Rodrigo Camarena and César Zuñiga (District 38, Sunset Park). Term-limited Council Member Carlos Menchaca has many highly qualified would-be successors, and StreetsPAC was only able to narrow the field down to two: Camarena, a bike commuter, said he would focus on keeping delivery cyclists safe. He also supports improved bus and ferry service. Zuñiga, the chairman of Community Board 7, is laser focused on the dangers of Third Avenue. He also supports improved bus service and a protected cycling network. Alexa Avilés earned the group's number three pick.
Brandon West (District 39, Park Slope): In a surprise, StreetsPAC chose West, a City Hall budget analyst, over better-known candidates to succeed term-limited Brad Lander. The group cited West's advocacy for a "15-minute city," a fare system that works across all transit (which he thinks should be free). Shahana Hanif, Justin Krebs, and Doug Schneider were all listed as worthy second picks. StreetsPAC said it could not see enough daylight to separate them.
Rita Joseph (District 40, Flatbush): Joseph, who is well known to Streetsblog readers, is one of many qualified candidates to succeed undistinguished Council Member Mathieu Eugene, "for whom transportation has been an afterthought, at best," StreetsPAC said.
Joseph got the nod because she said she would advocate for better public transit, including busways, and demand faster expansion of Citi Bike and protected lanes.
Josue Pierre got the group's second pick.
District 41: Alicka Ampry-Samuel, incumbent, is expected to win the seat again, although former council member Darlene Mealy is technically in the race. StreetsPAC did not endorse.
Nikki Lucas (District 42, Canarsie): StreetsPAC hopes to break the Barron monopoly on this seat — which has been occupied by Charles or Inez for two decades (Assembly Member Charles Barron is running for his old seat now that his wife is done with it). Lucas got the nod over Wilfredo Florentino (who was picked second) because the group believes her name recognition will help her beat Barron, who is as well known in the district as baseball, hot dogs and apple pie.
Lucas will push to have Linden Boulevard redesigned with protected bike lanes and better pedestrian infrastructure, something Barron didn't see as a priority in a Streetsblog interview. Florentino, the transportation committee chairman of Community Board 5, is a strong number two, the group said.
Justin Brannan (District 43, Bay Ridge): Brannan, who is running for his second consecutive term, is supported by StreetsPAC for his work on subway and bus improvements and service, and is dedicated to expanding Citi Bike service in his district to encourage people to use non-car methods of transportation.
District 44, Midwood: Incumbent Kalman Yeger is running unopposed — on both Democratic and Republican lines. StreetsPAC did not endorse.
Anthony Beckford (District 45, East Flatbush): Beckford is challenging incumbent Council Member Farah Louis, who has not made street safety a priority. Beckford knows the challenges of surviving in East Flatbush — he's been hit by drivers three times in the district. He said he would advocate for better bike infrastructure, especially along Coney Island Avenue. Louis got the group's second-place nod, which is incredible, given that she voted against the Councils Streets Master Plan bill in 2019. The group said she's "evolving" on street safety issues.
District 46, East Brooklyn: The top candidates are Gardy Brazela, Donald Cranston, Mercedes Narcisse, Judy Newton, and Shirley Paul. StreetsPAC did not endorse.
District 47, Coney Island: The top candidates for the opening seat are Alec Brook-Krasny, Ari Kagen, Joseph Packer, and Steven Patzer. StreetsPAC did not endorse.
District 48, East Brooklyn: The top democratic candidates to fill the open seat are Amber Adler, Binyomin Bendet, Mariya Markh, and Steven Saperstein. Inna Vernikov, a Republican, will face off against one of them in November. StreetsPAC did not endorse.
Staten Island Council
Amoy Barnes (District 49, North Shore): Barnes, who hopes to succeed term-limited Debbie Rose, said she would focus on transit with real bus rapid transit, more transit-signal priority, and expanded ferry service. She also impressed StreetsPAC by saying her 15-minute bike ride to the Staten Island Ferry terminal feels so unsafe that it's a "disgrace." Ranti Ogunleye got the second-place vote.
District 50, Mid-Island: Sal Albanese, the presumptive Democratic nominee, and George Wonica, the presumptive Conservative Party nominee, will face whoever wins the Republican nomination. The three candidates in that primary are David Carr, Marko Kepi, and Sam Pirozzolo. StreetsPAC did not endorse.
District 51, South Shore: Current Council Member Joseph Borelli, a Republican, is running for re-election against Democrat Olivia Drabczyk. But that battle will be in November. StreetsPAC did not endorse.
The election is on June 22. Early voting begins on June 12. Click here for more information.