Can Brooklyn Build a Pedestrian-Friendly Arena at the Atlantic Yards Site?
Ready or not, come September 28, 2012, Brooklyn will once again be home to a major professional sports venue. The Barclays Center at Atlantic Yards is scheduled to open by next fall, while progress on the rest of Forest City Ratner's mega-development is lagging far behind. In the words of local City Council Member Letitia James, "All we're getting is an arena and a large parking lot."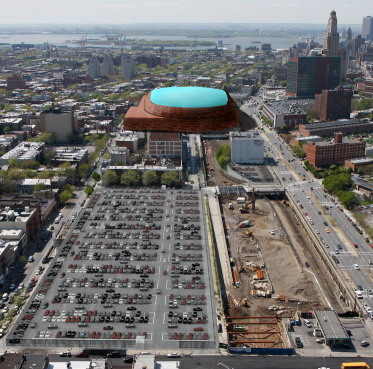 James's conclusion is perhaps a bit premature, as Norman Oder has noted at the Atlantic Yards Report, but the basic premise is right: The arena is moving ahead while the rest of the project languishes, and for a while the arena may stand all alone. The primary transportation planning challenge facing the area is how best to move the tens of thousands of people who will want to watch a basketball game or concert to and from the site in a way that is safe, sustainable and appropriate to an urban environment.
The fundamentals for a smart solution are there: The Atlantic/Pacific hub makes the area better-served by transit than almost anywhere else in the United States. Right now, though, the picture is more mixed. The state recently released its transportation plan for the arena, a plan largely in line with past promises from both the Empire State Development Corporation and the developer Forest City Ratner, which is intended to mitigate the increased traffic that the crowds heading to an arena event will bring to the surrounding neighborhoods. Many of the features, like free subway fares for certain Nets ticket holders and 400 secure bike parking spaces, will help make the Barclays Center more transit-oriented and bike and pedestrian-friendly.
But the developer is planning to build an 1,100-space surface parking lot, killing street life and inducing driving. And with some of the borough's deadliest streets left in place as enormous traffic arteries, walking and cycling will remain overly dangerous, potentially keeping features like a temporary plaza from being much more than a hard-to-reach traffic island.
Between developer Forest City Ratner, the Empire State Development Corporation and the city government, the capacity exists to make the Barclays Center a standard-setting example for urban arenas around the country, if only they have the will. At a public meeting tonight sponsored by several electeds and neighborhood groups, leading local architects and planners will lead a workshop to envision alternatives to the surface parking lots currently planned for the site.
What are the options? Streetsblog is going to explore how the transportation mix serving the new arena can emphasize transit, biking, and walking, creating the conditions for a quality pedestrian environment. First, we're taking a look at what some other urban stadiums are doing to promote sustainable transportation, and then in a later post we'll see what top planners think needs to happen to make this arena work for Brooklyn.
***
Getting sports fans to come to games without driving is an uphill task. Madison Square Garden is perhaps the ultimate urban stadium. It sits on top of Penn Station, the busiest transit station in the United States, and according to the New York Times, does not have its own dedicated parking lot. Even so, only 52 percent of people headed to Knicks or Rangers games in 2003 arrived by transit or on foot. Everyone else drove.
There are a number of reasons so many people drive to even the most urban stadiums. Ticket holders tend to have larger disposable incomes, for example. And the transportation decisions of someone who might only come into the city a few evenings a year are always going to look different from those of a daily rush-hour commuter.
As a result, stadiums have long tried to accommodate drivers. Most famously, the Dodgers left Brooklyn a half-century ago in part because Walter O'Malley decided that having only 700 parking spaces at Ebbets Field made it too hard to attract fans — or the right fans. The historical irony now, of course, is that O'Malley wanted to build his new stadium and new parking next to the Atlantic Yards site; stymied then by Robert Moses, both the stadium and the parking are being built now.
That doesn't mean, however, that you can't make stadiums that fit snugly into an urban context. "The Verizon Center is a very good example," said Cheryl Cort of Washington D.C.'s Coalition for Smarter Growth.
The Verizon Center, home to the Washington Wizards and Capitals, was built in a somewhat run-down section of downtown Washington and has played a part in revitalizing the neighborhood. "It's a venue with a broad variety of activity, so it really is feeding the businesses a sustainable diet," said Cort.
Sitting on top of a major transfer station, "the vast majority of people arrive by Metro," said Cort. The Verizon Center itself estimates that around 60 percent of visitors get there on transit.
Just as important as making it easy to get to a game or concert on transit is not making it too easy to drive there. Cort said that the Verizon Center built a small amount of off-street parking along with the stadium, but hardly enough to serve the bulk of the fans. What's more, "the city came in and has done quite a bit of very aggressive management of on-street parking," she said. "You're not going to find a free parking space near the Verizon Center." Rather than cut out at 6:30, the parking meters in the area stay in effect until 10 p.m. and charge a premium rate.
Cort also praised the transportation plans at the new Nationals Park, located just blocks from the US DOT headquarters. "It's worked well," she said. There's special routing for both trains and buses on game days and bike valet parking at the stadium, for example. There was also a heavy public education campaign to make people aware that parking in the area was limited. The message, said Cort, was, "If you don't know you have a parking space, don't come and look for one."
Nationals Park is also at the center of two of D.C.'s big new transportation initiatives. Nationals Park was one of two pilot locations for D.C.'s performance parking program, which instituted variable, demand-based pricing for on-street spaces. Eventually, plans call for Nationals Park to be served by D.C.'s new streetcar system, making it that much more transit-accessible.
In Boston, America's greatest ballpark has taken great strides away from being overly car-oriented. In 1996, 68 percent of the visitors to Fenway Park drove, according to David Nelson, a transit planner who presented his research on transit access to Fenway Park to the American Public Transportation Association last year. Fenway was doing better than most other American parks, but given its location in a relatively dense urban neighborhood, not better enough. Since then, however, steady progress has been made toward improving non-automobile access to the park.
"Transit ridership is up due to several factors," said Nelson. Most importantly, attendance is significantly up compared to the 1990s, while the parking supply has been static or declining. The Red Sox have sold out every game since May 2003, but those extra visitors haven't had any extra room for their cars. In fact, a wave of new development in the area, spurred in part by the Red Sox finally deciding against building a new stadium, has replaced former parking lots.
At the same time, significant improvements in transit accessibility have benefited Fenway. According to Nelson, the nearest T station has been renovated to improve its capacity, the cars on the Green Line are larger, and more commuter rail trains run to the adjacent Yawkey station every day.
Other changes are coming down the pipeline, too. A new Yawkey station will more than double the number of commuter rail trains that can use the station each day. And the neighboring town of Brookline — the border is only a few blocks from Fenway — just made a big move on parking policy. On game nights, parking meters in the areas nearest the park will charge a normal rate for the first two hours of parking but jump up to a full $10 per hour after that. The idea is that those parking to go to dinner would pay the normal rate, but those trying to go to the game pay roughly the same as the market price at nearby lots.
Fenway could still do better, of course. Jackie Douglas, the director of Boston's LivableStreets Alliance, suggested that high-quality bike parking, perhaps along the model of the bike cages the MBTA is installing at transit stations, would help people ride to the game. She also hoped to see the Red Sox use their massive popularity to actively promote riding transit, walking, or biking to the game.
In Nelson's presentation, he suggested that bundling transit passes with game tickets, giving priority street access to buses in the area, and providing shuttles from non-adjacent transit lines could also help boost transit ridership higher on game nights.
Still, the progress at Fenway has been very real. Said Douglas, "The T is definitely packed."
Tonight's public forum on the Atlantic Yards project gets underway at 7 p.m. at Atlantic Common, 388 Atlantic Avenue, between Hoyt and Bond. Stay tuned for more ideas on how the site can be as transit-oriented and pedestrian-friendly as possible.