Tuesday's Headlines: 'The New Phone Book is Here!' Edition
At the risk of sounding a bit like Steve Martin's character in "The Jerk" after receiving a new phone book, but the new bike map is here! The new bike map is here!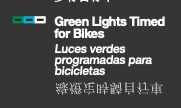 Now posted on the Department of Transportation website — the new official snapshot of the current bike network, with new features including locations of "green wave" signal timing for cyclists and, of course, the latest protected and painted bike lanes (nice to see that thick green stripe on Crescent Street in Queens, on the E.L. Grant Highway in The Bronx, and on Fourth Avenue in Brooklyn).
We were busy all day just staring at it, so forgive us if we get right to the news so we can get back to ogling our map:
The minivan driver who apparently intentionally backed into five Hasidic men in Williamsburg was arrested. (NYDN)
Like the War on Drugs, Gov. Cuomo's War on Farebeating is a failure. (NY Post)
The Long Island Rail Road is going to retrofit a train with batteries to see if diesel trains can be replaced along the 160 miles of unnelectrified track. The first test will be on the Oyster Bay line. (NYDN, NY Post)
This is not a "New Paltz problem," but a backyard problem for Brooklyn Borough President Eric Adams — Norman Oder's Atlantic Yards Report shows the problem of sidewalk parking by the privileged placard class at the Barclays Center.
The Daily News had a touching second-day story (with horrifying video) on the Harlem crash that injured six.
David Leonhardt of the Times opened his story about COVID vaccine fears with the great old fable about how Americans have accepted 40,000 deaths a year from car drivers without blinking.
A new poll shows Andrew Yang still leading the mayor's race (NY Post), but it was conducted before the United Federation of Teachers endorsed Comptroller Scott Stringer on Monday (NY Times) and before Harry Siegel's rapier thrust takedown of Yang in the Daily News.
Many details are missing from the story of the pedestrian struck and killed on Central Park West late on Sunday night, but ABC7 and the Post believed the NYPD line that the victim intentionally allowed himself to be killed.
Also, details are missing from a West Side Rag story about a pedestrian who was critically injured in a crash on Saturday on Amsterdam Avenue with an e-bike operator. The initial report said the pedestrian entered the bike lane from between two cars and not at the intersection. But it's unclear how fast the cyclist was going.
And, finally, it's 4/20, which means we'll probably lose touch with the younger members of the staff in the late afternoon.