Jan Gehl Says San Francisco Must be Sweet to Pedestrians and Cyclists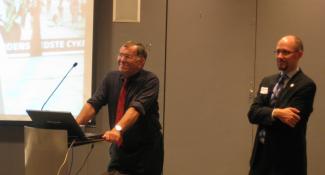 It's a good day in a city's urbanist evolution when Jan Gehl comes to town, and now San Francisco can add itself to the growing list of cities around the world that have embraced his people-first approach to urban design and planning.
Hoping to keep pace with the progress in New York City over the past two years, the San Francisco Planning Department has commissioned Gehl Architects to transform several prominent streets and public spaces in the city, starting with one of the busiest tourist attractions in the U.S., Fisherman's Wharf.
On Tuesday night, in front of a
standing-room audience of special guests at Pier One's Bayside Room,
Gehl presented his general vision for improving San Francisco's public realm. The
event, sponsored by Mayor Gavin Newsom, San Francisco Planning and
Urban Research (SPUR), the San Francisco Bicycle Coalition, Livable
City, and Walk SF, was the first in the new Great Streets Campaign Speakers Series, which will bring some of the world's most remarkable urban visionaries
to the Bay Area in the coming months to share their successes and offer San
Francisco models for instituting its own vision for a sustainable and healthy city.
Gehl is in town for a week of presentations to the public, to city agencies, and to merchants' associations. On Wednesday, he will present the results of his firm's Fisherman's Wharf study to the public for the first time. The Planning Department is hopeful that his work will stimulate a larger discussion of the quality of public space among the stakeholders in the area.
John Rahaim, director of the Planning Department, noted that Gehl's work around the world brings a cachet to San Francisco and helps "set the stage to implement pedestrian improvements and demonstration projects on our streets." Rahaim is optimistic that Gehl's work will "start a process to implement the principles of [San Francisco's] Better Streets Plan," the comprehensive new pedestrian and public space plan that is awaiting completion of environmental review.
Gehl was cagey when asked about what San Francisco should do to be more like Copenhagen or Paris, arguing that the study his firm has completed for the Fisherman's Wharf project is only a preliminary analysis and not a proposal. Nevertheless, he argued that if San Francisco wants to be a "lively, attractive, safe and sustainable city [it must] be sweet to its pedestrians, sweet to its cyclists."
Photo of Jan Gehl and SPUR Executive Director Gabriel Metcalf by Matthew Roth